Wild Warner statement, with accompanying photos, presented to the Board of Parks Commissioners on Dec. 8, 2010
I'm Jim Carrier, chair of Wild Warner, here to follow up briefly on a discussion we began last month about bicycle racing in one area of Warner Park — an area that is home to wildlife and has enjoyed an historic, if defacto, protection as a natural area.
Warner Park is nearly 200 acres of land, water and wetland that is intensely used.
About 500,000 people enjoy Warner Park every year – Rhythms and Booms and the Mallards are the largest crowd-pleasers.
But long before Warner was a city park, it was a wildlife refuge. And gradually over the years, that refuge has been carved into, for ballparks, parking, and an immense amount of lawn.
I thought it would be instructive to show you Warner Park by area use. And to explain why we are passionate about preserving what remains of natural areas. I've handed you five pictures.
The first shows Warner Park's parking lots in white (17 acres – 9%)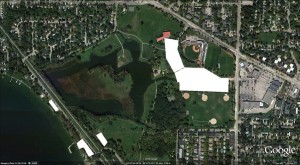 The second, in yellow, shows ballparks and active recreation areas (45 acres – 22%)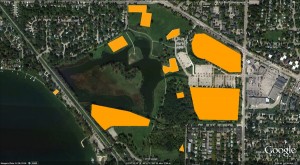 Together, parking and active recreation areas take up one third of Warner Park.
The third shows how much lawn we have – 55 acres, 26% of the park.
The fourth outlines a state-designated wetland. (60 acres – 28%)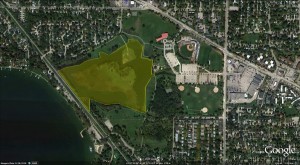 The fifth photo shows the remaining dryland natural areas, mostly wood and prairie — a space that we would like see preserved for nature. (41 acres – 18%)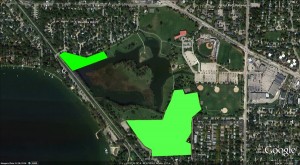 When we say preserved for nature — and this goes to a question asked by Mr. Scarbrough last month — we do not mean an area off-limits to humans. Quite the contrary.
Because it is a refuge, it is the source for wildlife viewing all through the park. It's also a wonderful place for walking, sitting, listening — its one place where the wind through the trees muffles traffic.  In this area, Wild Warner members have recorded more than 95 species of birds, plus foxes, deer, beaver, woodchucks and other animals in an ever-changing environment.
Here in the middle of the North side of Madison, in walking distance to thousands of families of all colors, you can see, learn about, and come to appreciate our fellow creatures. Wild Warner's Trish O'Kane has begun a middle school program, we have sponsored bird walks, we are about to publish a map of trails and wild-land features. We want the woods and meadows and wetlands preserved for critters — including us.
Mr. Barker has mentioned the idea of a conservancy. We like that idea. Our alder, Satya Rhodes Conway, is opposed to creating the conservancy outside of a formal master plan process for the park. And that's going to take at least two years. We'll be there tooth and claw.
In the meantime, we ask Supt. Briski, parks staff and you commissioners to do no harm to the area that we'd like preserved. For example, no more bicycle racing. Or anything else that will nibble into the fragile remaining 41 acres — just 18 percent of the park — that is so valuable to so many beings.