Explore The Flora and Fauna of Warner Park
These free events will all meet at the Rainbow Shelter in Warner Park, except as noted. They are sponsored by NESCO and Wild Warner. All are designed to be wheelchair accessible and for all ages. Cars can drive up to the Shelter for drop offs.  Walking and biking to events is encouraged.
Saturday, June 4,  8:00am
Audubon Birding Walk and Roll
UW Environmental Studies Ph.D. student Trish O'Kane is conducting geolocation research on catbirds in Warner Park, to find out their migration routes. Catbirds raise their families in Warner Park and then fly to Central America and the Caribbean for the winter. During this walk we will see many migratory birds, including many species of warblers. Red-wing blackbirds are preparing a concert., just for this event. Babies will be learning to fly.
Sunday, June 12, 4:00pm
Wild Warner Wetland Walk and Roll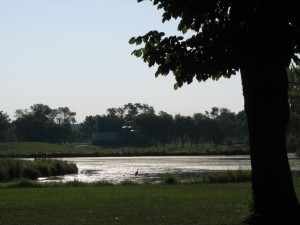 UW Wetland Expert Dr. Quentin Carpenter teaches UW's popular Wetland Ecology course for the Gaylord Nelson Institute for Environmental Studies. Learn about the importance of wetlands and about the research of his wetland ecology students, who conduct field studies in Wild Warner's wetland.
Saturday, July 30, 9:30 am
Warner Park Prairie Circle: A Look at Prairie Plantings
Meet at Warner Park Center and bring a chair. Gerry Gunderson and Rose Ann Scott, long time prairie enthusiasts, teach about the wildflowers in the Circle and the non-stinging bees who love them. Learn how to plant to attract birds and butterflies. After a talk at the Circle, those who wish can walk/roll a short distance into Warner Park to see a small wetland planting.