Wild Warner was honored to receive a North Star award from our neighbors and the Northside Planning Council on Nov 11, 2011.
Paul Rusk, Dane County Supervisor, presented the award. Here are his words:
Margaret Mead Quote:  "Never doubt that a small group of thoughtful committed citizens can change the world; indeed, it's the only thing that ever has."
"This North Star Award recognizes Wild Warner, an organization that is relatively new. In only a little more than a year, Wild Warner has fundamentally changed our view of Warner Park, reminding all of us that the park's natural areas and its diverse wildlife are wild and beautiful, and should be enjoyed by all, now and for generations to come. They've worked collaboratively with a number of groups including the North/Eastside Senior Coalition, Northside Planning Council, Sherman Middle School, Brentwood Neighborhood Association, UW-Madison staff and students. Wild Warner has developed innovative interactive educational programs so young people can explore nature through photos, stories, maps and hands on experience with all that Warner Park has to offer. Wild Warner's advocacy efforts changed how Madison and its Park's Division handles unwanted geese, moving us to use natural population methods. Their work is enhancing and protecting Warner Park — one of Madison's greatest treasures."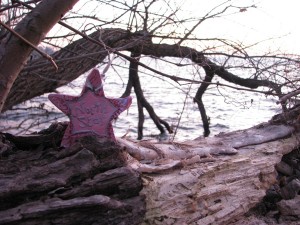 We thank Mr. Rusk for his generous words, and all those who voted for us. We pledge to live up to the honor.
For a list of all North Star recipients, and a photo of  them, including Wild Warner Treasurer Tim Nelson, click here.
For a fun gallery of our North Star in the park, visit our gallery under Scenes, or click here.