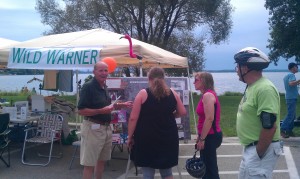 Thousands of bike riders came to Madison's North Side on Aug. 12, as part of Ride the Drive, and Wild Warner was there with music, a rest stop on our beautiful beach, and information about the "wild side" of Warner Park. We passed out hundreds of brochures, signed up a few new members, and invited visitors to celebrate the wildlife that calls Warner Park home.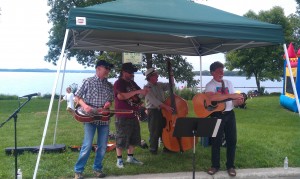 The beach, boat ramp, and the beautiful strip of grass and trees between Woodward Drive and Lake Mendota's eastern shore are part of Warner Park. Flower beds are maintained by Karen Hickle, a member of Wild Warner.
Tim Nelson, treasurer of Wild Warner, conceived and created the booth, and partnered with the Audubon Society's Paul Noeldner to open many eyes to a view of Warner Park that includes birds and fish and turtles and foxes.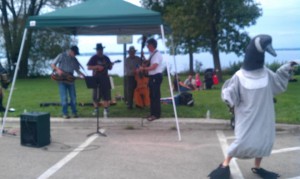 Speaking of wildlife, a rare bird appeared at the booth. Experts are still searching bird books and scratching their heads at the wonder of it all.