PAMELA COTANT | For the State Journal

Every Wednesday after school in the spring and fall, Sherman Middle School students make the trek on foot to nearby Warner Park — a diverse, natural playground full of teaching possibilities.
The students call it Nature Club but it is officially "Last Child in the Park: How Kids & Birds Can Save the Planet." It is part of a course taught at the Nelson Institute for Environmental Studies by Trish O'Kane and Jack Kloppenburg.
The course has two parts: UW-Madison juniors and seniors study environmental topics and prepare for ways to teach the students in a two-hour morning class. In the afternoon, they pair up with the Sherman students as mentors and teachers for two hours.
"I come here to learn about nature," said sixth-grader John Guaderrama, 12. "It's real fun. We get to see all kinds of turtles, birds. I saw a deer once and foxes."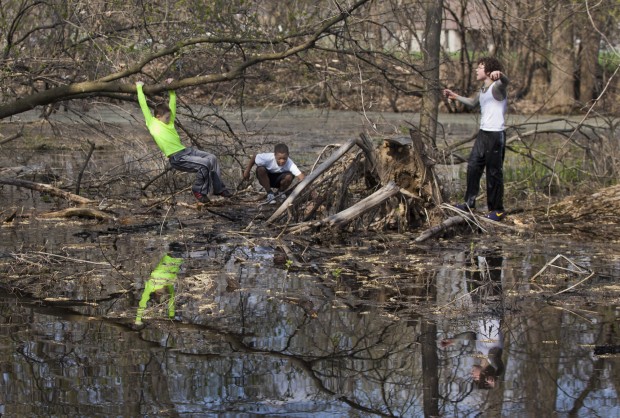 O'Kane is a graduate student who lives across from the park and is instrumental in Wild Warner, an effort to sustain the 200-acre park and promote nature appreciation. She first designed a structured lesson plan but quickly learned that after a day in school, the students were ready for something looser.
So the club has evolved into small group meanderings through the park, seeing what the wetland, fields and forest have to offer that day.
Recently, about a half dozen turtles were spotted sunning themselves in the lagoon and a flying bat also was spotted. Later, the students gathered around as one group showed off its find: three big toads only temporarily housed in a clear plastic clamshell container that sixth-grader Zach Weber, 12, thought to bring along. Zach also recorded croaking toads on his iPod and played it during sharing time at the end of the day.
O'Kane said the students get a kick out of collecting things in the park — skeletons and fallen parts of trees are huge.
It was a big day for Zach, who also cradled a perfect robin egg in his hand, which was found with no nest in sight.
The Sherman students can ask their mentors questions with the expectation that the following week they will get the answers along with the sources of the information.
In its third year, Last Child is a collaborative effort involving the Nelson Institute, Wild Warner, Sherman Middle School and Kloppenburg, O'Kane's adviser and a professor of environmental and community sociology. Madison Audubon Society member Paul Noeldner also leads students on birding activities each week.
Mike Hernandez, Sherman principal, said the students involved in Nature Club have shown improved attendance and general engagement in school and it gives them a connection to UW-Madison, which they will visit this week for the last day of the program.
"Some of the students (in Nature Club) aren't involved in any other activities. That is their niche," he said.
Read more: http://host.madison.com/news/local/education/local_schools/school-spotlight-sherman-middle-school-nature-club-explores-warner-park/article_d7facf2b-f68b-5b2a-9a1d-cffecda0b876.html#ixzz2SYDmSXNF