By Jim Carrier, cofounder of Wild Warner
The following was presented to the Madison Board of Parks Commissioners on July 10. It represents a new vision for Warner Park's wetland.
I wanted to bring you up to date on Warner Park and Rhythm & Booms.
As you know, Wild Warner objects to the use of Warner's wetland as a site for fireworks. We've documented the pollution. I've been told that this year may be the last year in Warner. I wanted to brief you on what we found this year, and what we propose going forward. I've given you several pages of photos that you can follow along: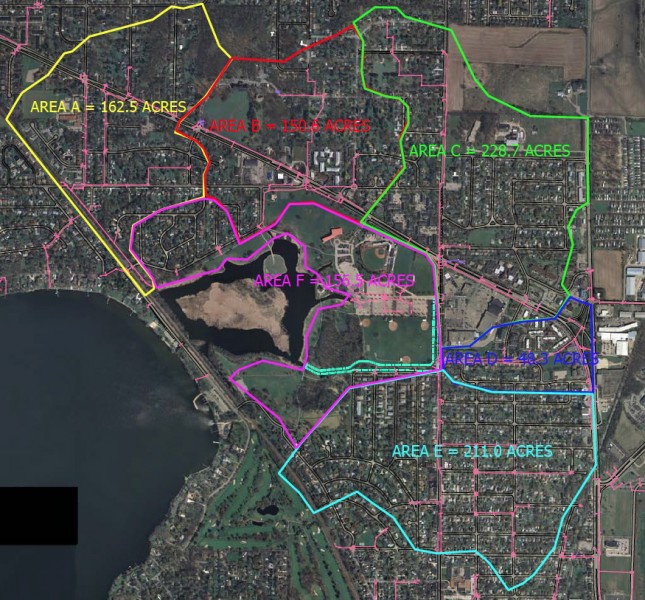 1. Warner's wetland is 60 acres in size. It collects storm water from an enormous watershed  – nearly 1,000 acres of Madison's northeast corner. (958 acres). Were it not for this sponge, Lake Mendota would have a murky, polluted delta on its eastern shore. Warner's wetland, in other words, is doing what wetlands have always done. The down side, of course, is that the wetland is degraded. It is filling up with debris. It is polluted with heavy metals and pesticides, not to mention plastic bottles. There is little we can do about this. At least with present technology. No more than we can move the railroad which blocked the lake from the old swamp a century ago, except for one 10-foot tunnel.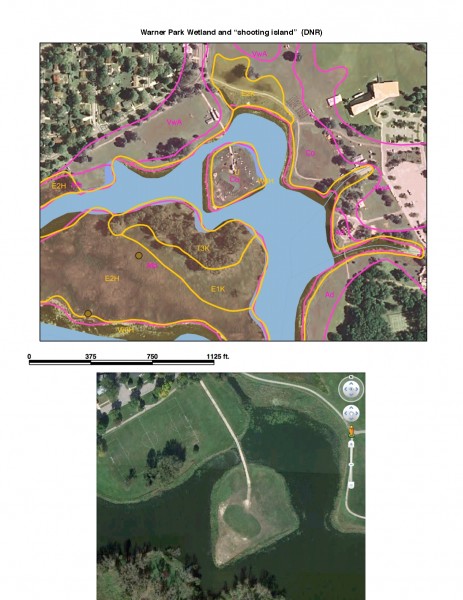 2. Here on top, is DNR's wetland map. And below that is an aerial photograph of an island that was created half a century ago when the city dredged the swamp.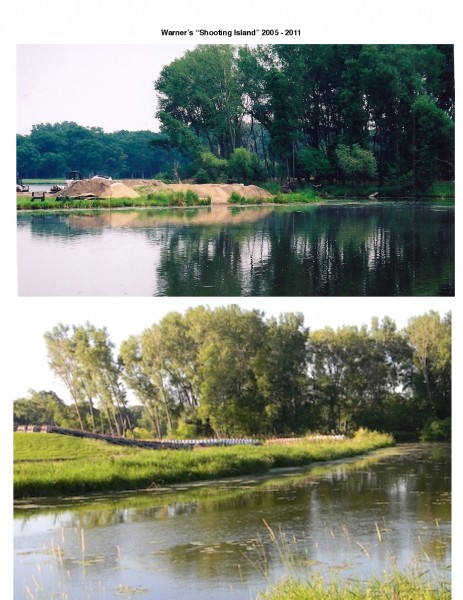 3. These photos show that island in 2005 (top), and again in 2011. (bottom) What has changed, is tons of sand that were brought in to bunker the large mortars, 8,10, 12 inches across, used by Rhythm & Booms. They required 3 feet of sand to fortify and aim them into the wetland.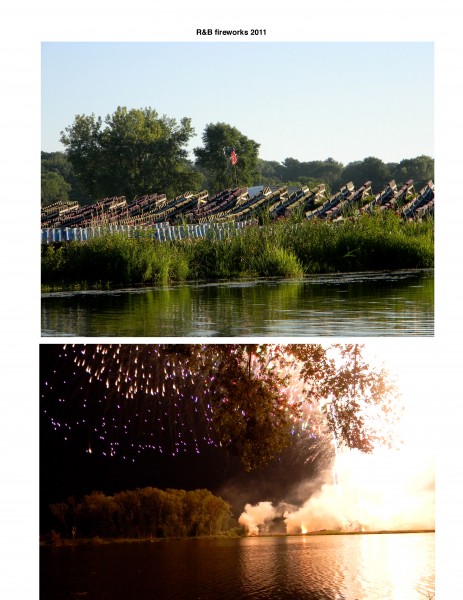 4. These photos show the hill, and a typical fireworks show (2011). The problem was, R&B was bringing fill into a wetland without a permit. We brought this to the attention of DNR and the Army Corps of Engineers. They inspected and have determined that R&B and the city have been violating the Clean Water Act for years. So this year DNR required that any sand brought in, must be taken out after the show.

5. These photos show some of the debris from this year's just off the shooting island. There were at least 20 of these large 11-inch orange caps from the mortars in the water, along with ropes and fuses used to assemble the bombs.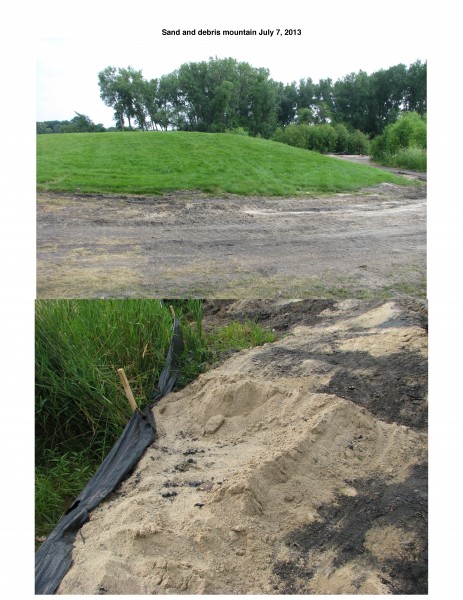 6. With these photos, you get an idea, at the top, of the size of the sand mountain that has been built over the years. It is 10 feet high, 350 feet around, 90 feet wide and 150 feet long. At the bottom is this year's sand mixed with the charred dirt left from the fireworks.You can see the black soil on the next page.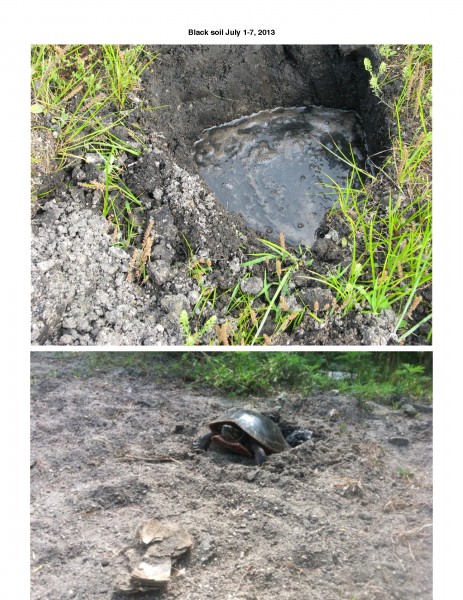 7. We have asked DNR, and they say they will require the city, to remove this sand mountain, as mitigation for the years of violation.

8. These last photos show a bit of our vision. Though degraded by storm water, and other pollution, Warner's wetland is the heart of a natural area that supports 135 species of birds, turtles – including the threatened Blanding's species – amphibians, fish and mammals. It is deserving of the respect and legal protection of our marquee wetlands.
The difference is that kids from the housing projects can walk across the street and be in a wetland. We would like the city to help us turn the "shooting island" into a "wetland education island" where kids can watch turtles lay eggs, they can help plant wetland plants, they can fish, they can watch birds, they can learn about nature – and the value of wetlands – all from a resurrected island surrounded by water.