The wild side of Warner Park was shaken from its winter slumber this week, as the Nature Explorer Club returned for its winter/spring session.
On Wednesday, Feb. 12, thirty-seven kids trudged through the snow to sled in Warner Park and look for intrepid birds that are starting to return to the park.
Trish O'Kane reports the following wildlife: American tree sparrows burrowed in the snow, the red fox, a Cooper's hawk, dark-eyed juncos, house finches and cardinals singing their spring songs, brown creepers, nuthatches, several species of woodpeckers, mourning doves — and a bunch of kids sledding.
After an afternoon in the snow, they trouped back to Sherman and surprised Paul Noeldner, Wild Warner's education coordinator, with cake and candles.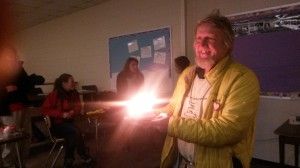 He was delighted as 37 kids and 14 college mentors sang happy birthday to their indefatigable weekly advisor and game meister. (Trish O'Kane)
UPDATE:
 Paul Noeldner writes:
Come to the Wild Warner Winter Walk on Sunday 2/16 and we'll look for the heart of Alba the Oak. Meet 1:30 at Warner Park Center lobby to hike, ski, snowshoe or sled across the wild side of Warner Park to the big sled hill.