April 22 – In honor of Arbor Week, the Madison Parks Habitat Stewardship Committee is pleased to announce the First Annual (2012). Heritage Tree Award Winners. The Heritage Tree Program fosters an appreciation of city park and street trees, and inspires an awareness that heritage trees are a living and distinct resource for the Madison community.
Trees must meet criteria for health and be considered "historic," "landmark," an exceptional "specimen" or part of a special "collection."
Wild Warner member Mike Rewey nominated two trees  and succeeded in persuading the committee and Madison Forestry officials to include the Bur Oak. The announcement reads: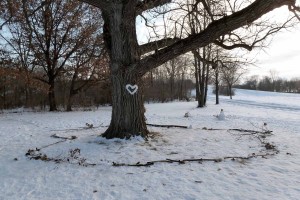 Landmark – The winner in this category is a Bur Oak tree located at 3110 N Sherman Ave in Warner Park.  Mike R., who nominated this tree wrote: "This is the 12th largest known red oak in Dane County. It is an open growth oak that is typical of those found in pre-settlement oak savannas. This tree is a learning tree for neighborhood children who come here to discover our local enivornmental heritage. It is quite impressive."  The tree is located 750 ft west on the Warner Park bike path from the intersection of Monterey Dr and Trailsway. The tree is on the left, just before the north–south bike path.
Madison Park Forestry and the Heritage Tree Committee would like to thank the nominators for participating in the program. With your help, we can promote conservation and stewardship of our natural resources for generations to come.
If you would like to nominate a city owned park or street tree for the 2013 Heritage Tree Award, you can find nomination forms, criteria and more information at the City of Madison Forestry's website. Nominations for the 2013 Heritage Tree Award are due August 1, 2013.