Rob Petershack, an attorney and amateur photographer, visits Warner Park periodically in search of good photos.
On September 30, he caught this blue heron in the wetland. Herons, as he notes on his distinctive Web site, Points of View, do a lot of standing around.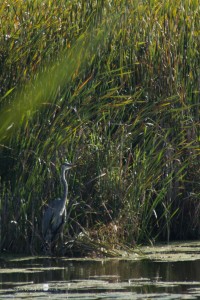 But on the same outing, September 30, he was standing at this spot (x), when he spotted an eagle circling overhead.
As he stated on his site, I wasn't ready for it since I had been focused on wildlife in the water – i.e., manual focus on a tripod with stabilization off while using remote shutter release. The bald eagle came down to land in a tree faster than I expected. I got one barely worthwhile interesting shot. Here it is, still rather so-so after quite a bit of clean up: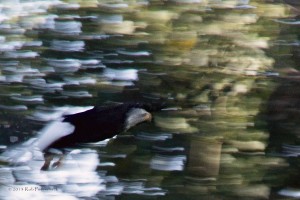 But then, low and behold, the eagle landed next to a mate.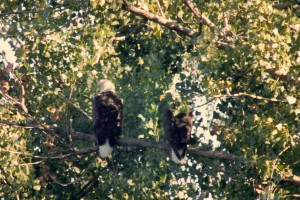 If you would like to follow Rob's photo blog, you can go to his site, and enter your email. There is also a pulldown menu at the top of the blog entitled "Nature" which contains sets of photos. All photos here are copyrighted by Rob Petershack. We thank Rob for letting us borrow them.