It was a beautiful day to pick up trash in Warner Park Saturday.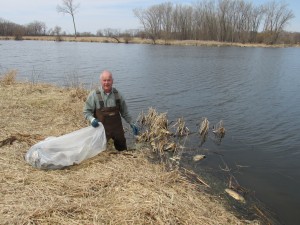 Twenty volunteers, many from the Brentwood Neighborhood Association, adjacent to the park, fanned out with plastic bags and gloves supplied by Kristin Mathews, a Leadworker with the Madison Parks Department. By the end of the day her pickup was filled.
Wild Warner partnered with the cleanup, which focused on areas of the park adjacent to Brentwood– along Trailsway and Monterey Drive, as well as storm-drain trash carried into the woods. Several volunteers picked invasive garlic mustard to help our native understory in Warner's woods.
Brentwood's Charlotte Leydon coordinated the cleanup, which made a sizable dent in the long winter's detritus. Her husband, Dr. George Leydon, and their two sons, Henry, 6, and Grant, 4, did their part while discovering worms and walking in water.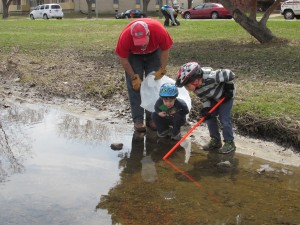 There is still more trash to pick up. If you've got some spare time, a trash bag and some gloves, join the fun. It's our park. Let's treat it right.