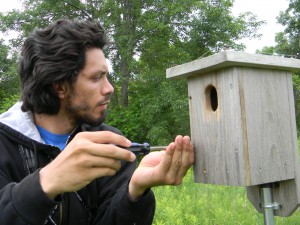 by Jonathan Santanna, Madison College student and aspiring zoologist
It started like every other Thursday morning, however there were four baby blue birds waiting for me this time. The last time I had seen the nest there were five eggs.
As I knocked on the bird house to let the bluebirds know I was coming in, I was somewhat nervous. I usually feel this way because I am afraid that I will do something wrong. Once I opened the door, Trish and I noticed the fly larvae that she had been warning me about. This observation did not settle my nerves. These fly larvae hide in the nest and suck the babies' blood. They can kill the babies.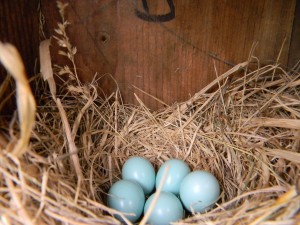 The feeling that I had when I pulled those baby birds out of the nest was fear, not my own fear, but the fear that the birds were experiencing. It broke my heart that they were scared of me while they had these fly larvae crawling around in their nest.
As Trish built a new larvae-free nest and I began putting the babies back into the new nest, I came to the conclusion that this experience solidified my dream of understanding animals. These birds have feelings and they are vulnerable just like any other creature on this planet. And once we can understand how birds, mammals, fish, or any other type of species feels and interacts with the world, we can then take further steps to build our relationship with the beings and environment on this Earth.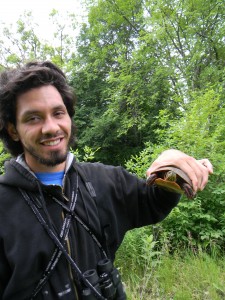 Trish O'Kane's note: I have been monitoring the bluebird houses on the southwest side of Warner Park for three years. I am now training Jonathan Santanna to replace me as the federally-certified bluebird monitor in Wild Warner Park. Every week Jonathan learns how to open the bluebird houses and check on the birds inside to make sure that they are safe and healthy. Thanks to Jonathan's care and commitment, four new bluebirds are now flying around Warner Park.
—
Trish O'Kane
Ph.D. Candidate in Environment & Resources
Co-Instructor of Env. Studies 600: "Last Child in the Park" and "Nature Explorers"