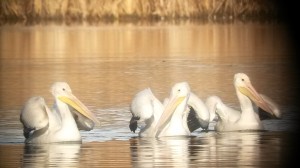 This wonderful video of the visiting pelicans was filmed by Greg Weller, a contributing photographer to Wild Warner.
BIRD 136 – White Pelicans have been spotted in the Warner wetland near the dog park. The birds are headed south, to winter along the Gulf Coast. Two of the birds have recently been joined by a third.
Pelicans eat fish, salamanders and crustaceans. The white pelican is the 136th species of bird to be verified in Warner Park, a sign of improving water quality and shelter.