Eleven Wild Warner volunteers braved wind and rain to help clean up the Warner Park Lagoon June 16.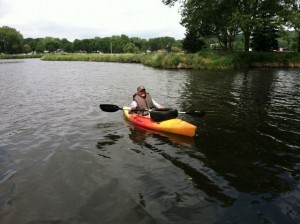 The cleanup was coordinated by Tim Nelson, Wild Warner's treasurer, in cooperation with the Dane County Lakes and Watershed Commission. Wild Warner provided trash bags, gloves, refreshments, and a free t-shirt.
Using rakes and their hands, they pulled half a small dumpster full of tires, cans, and assorted trash.
This is the second year for the cleanup, an effort that keeps the Warner Park Lagoon looking good for another year! Thank you!